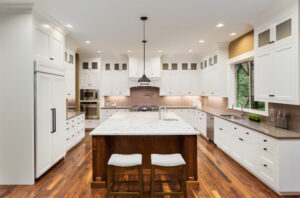 Your kitchen is one of the most multifunctional and used rooms in your home. You deserve to make it a space that you will enjoy. Every year, the look and function of kitchens change. 
Let's take a look at some of the finishes, fixtures, and colors that have been growing in popularity in 2021: 
Warm Colors in the Kitchen
White has always been a popular color to see in the kitchen. However, now, more families are starting to incorporate warmer tones into their kitchen cabinets, countertops, and appliances. Warm tones are often used because they offer a more comforting and cozy touch to your kitchen.
Touchless Faucets 
Especially in 2021, touches kitchen faucets have been growing in popularity. This new faucet feature is more hygienic, and it can help you be more productive in the kitchen. It's anticipated that regular lever kitchen faucets will be replaced with touches faucets or even voice-activated faucets throughout the years. 
Focus on Storage 
Having the right amount of storage is essential in any busy kitchen. Whether it's upgrading to a larger fridge/freezer or increasing your cupboard space, make sure you have a spot to store appliances like your toasters, air fryers, and instant cookers.
Large Kitchen Islands 
In 2021, a large kitchen island is a must-have item in your kitchen. For busy families, a large island at least 24 square feet in size is great to use as a dining table or a spacious place to work! Your kitchen countertop is no longer just space for you to cook. It's also used as a place to gather around, enjoy meals, work, and study!
Dark Surfaces 
Nowadays, having dark countertops and cabinets is a popular trend in kitchens. Often, these dark features are offset by lighter furniture or other bright pops of color to ensure that they can match any sized room. When dark colors are combined with textured woods, it can also add a rustic, cozy charm to your kitchen! 
Start Your 2021 Kitchen Remodel Today
There is never a bad time to get started on your kitchen remodel! Contact Bay Area Kitchens today to schedule an appointment with us and start designing your dream home.