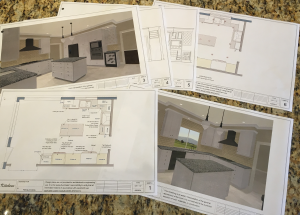 An outdated kitchen can make it hard to stay motivated to cook healthy meals at home. Believe it or not, research shows that those who have newly renovated kitchens often live healthier lifestyles and eat more home-cooked meals than people with less functional kitchens.
If you're looking for a way to live a healthier lifestyle, consider upgrading your kitchen to fit your family's needs and goals. Besides being known to promote healthier lifestyle conditions, renovating your kitchen space can also increase your family time, encourage you to host more events, inspire you to make homemade meals, and update your home's overall look!
Are you looking for an excuse to renovate your kitchen? Well, look no further! At Bay Area Kitchens, we will use our custom kitchen designs, luxury appliances, and custom kitchen cabinetry to give your family a new space that they will enjoy.
Whether you're looking to renovate an existing kitchen or start from scratch, we're here to help!
High-End Appliances for the Kitchen
We rely on our kitchen appliances to get us through the day. That's why you should invest in high-end kitchen appliances to help improve your lifestyle. At Bay Area Kitchens, we recommend Sub Zero, Wolf, and Cove appliances to our clients. Whether you're looking for a dishwasher or a built-in coffee system, Sub Zero, Wolf, and Cove offer the best variety that's suited to your lifestyle.
Besides our luxury appliances, we also offer Vent-A-Hood products to our clients. These are the best kitchen ventilation systems around. With over 200 different custom kitchen ventilation range hood canopies, you are destined to find one perfect for your custom kitchen design.
Custom Kitchen Cabinetry
At Bay Area Kitchens, we believe that better storage and functionality are always a good thing. When designing your custom kitchen, we encourage you to have properly designed and appointed cabinets in your kitchen to create a beautiful and organized space in your home that will last for years.
We take pride in offering completely customized and optimized Wood-Mode™ cabinetry for appearance and function. Remember, while your cabinetry is designed to serve a purpose, it also helps set the room's aesthetic. It's always important to choose cabinets that reflect your personal needs and lifestyle!
Custom Kitchen Design in Alvin, TX
Do you need help with your next kitchen remodel? Well, you're in luck! Bay Area Kitchens is committed to our legacy of providing first-class service and products. Allow us to help you with your next kitchen project!
Visit our showroom in Houston, TX, to learn more about our luxury kitchen designs. Give us a call at (800) 546-0417 to schedule an appointment.