What are your plans for your kitchen? The kitchen is considered "the hub of the home" for many reasons. It's a place where families share meals, where friends gather, and where memories are made. And although you might be baking a lot of cookies in it, there shouldn't be anything cookie-cutter about it.  A kitchen should be reflective of your specific needs, tastes and lifestyle.
We provide personalized kitchen design services in the greater Houston, Texas, area and beyond. Our experienced team of designers, contractors, and builders bring your dream kitchen to life using the highest quality materials available within your budget. Whether you're planning to remodel your existing kitchen or build your new dream home, you can depend on us for a finished kitchen that you can be proud of.
Kitchen Remodel Projects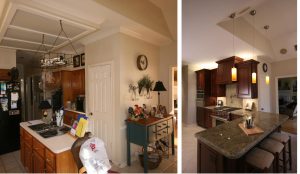 We'll work closely with you to design, supply and install your cabinets, countertops and appliances, and then your interior designer or contractor can handle all the rest for you. Or if you prefer, we'll manage your entire project from demolition all the way through completion. Either way, you'll get the finest custom cabinetry, countertops (Cambria), and appliances (Sub-Zero / Wolf / Cove), lighting and MORE, all wrapped up in one neat package.
New Construction Projects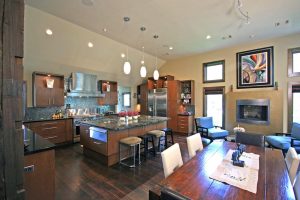 If you're building a new home, we'll fine tune your architect's cabinet plans to include all our custom features and amenities to your liking, or we can completely re-design the kitchen and other cabinetry from scratch. Bay Area Kitchens carries lines of cabinets that are FAR superior to any builder's cabinets as you'll see in our showroom, so you'll want us to supply and install all your cabinetry, ESPECIALLY in your kitchen. We can also help you with genuine gourmet appliances by Sub-Zero / Wolf / Cove, and other luxury items as you wish. And just as our cabinets are far superior to any builder's cabinets, Sub-Zero, Wolf and Cove appliances are FAR superior to any other appliances. If this is your dream home, use only the best and you'll have no regrets.